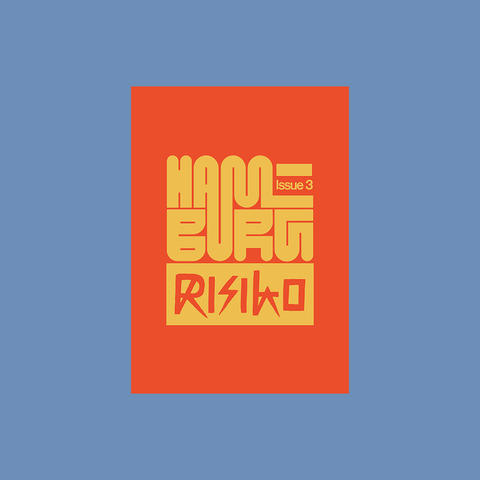 RISIKO Issue 3 – Hamburg
by RISIKO
€15.00
RISIKO, an independent magazine based in Berlin that covers contemporary German underground and alternative music, publishes its third issue, RISIKO Issue 3 "HAMBURG".
The topic of the third issue is "Hamburg." Hamburg is one of the musically important cities in Germany. It was the place where The Beatles were before they were famous in the early 60s, and also the base for important musical movements, from the Neue Deutsche Welle to the current alternative scene. RISIKO's point of view unravels the music and culture of this surprisingly unknown city. We introduce interviews and conversations about Hamburg's old and new music scenes and artists' friends, as well as featured artists' recommended spots and films in Hamburg. This is the kind of magazine that makes you feel a little closer to Hamburg after reading it.
Artists like Andreas Dorau and Palais Schaumburg's Holger Hiller, who symbolise Hamburg in the 80s, Swutscher and other artists from the up-and-coming Hamburg label La Pochette Surprise Records also appear. The broad lineup also doesn't overlook artists with unexpected connections to Hamburg, such as Fat White Family and photographer Hanayo.
< Featured Artists >
Andreas Dorau, Blackbird Mantra, Cony Plankton, Deep Dyed, Fat White Family, Holger Hiller (Palais Schaumburg), Kurt Dahlke (Der Plan, Fehlfarben, Ata Tak), Melissa E. Logan (Chicks on Speed, VooCha), Melting Palms, Swutscher, Velvet Bein (La Pochette Surprise Records), wearemarvin, Hanayo, Kotsuguy (Kikagaku Moyo), Max Bauer (Isolation Berlin), only child club, Erregung Öffentlicher Erregung, Frank Spilker (Die Sterne), Stefan Marx
Here's a little taster of what you can expect in this issue:
- WILD GERMAN PRAIRIE
Swutscher and Fat White Family, maverick bands representing Hamburg and London. This is a true story told by two groups who are actually good friends, from the time they met to the present.
- WELCOME TO LA POCHETTE SURPRISE RECORDS
Visit to the studio of La Pochette Surprises Records, an up-and-coming Hamburg label that has supported us since our first issue. What does the owner, Velvet Bein, have to say about the Hamburg scene? We also introduce bands that RISIKO is paying attention to through music writer Hitoshi Abe's reviews of their albums.
- Schnell! Schnell!! Andreas Dorau!!!
A closer look at Andreas Dorau's private life! The plan was to find out, but....
- 1H0LGER HILLER
What kind of picture do we get of solitary artist Holger Hiller from the ten questions we were curious about?
- HAM ATTACK
Ata Tak, a Düsseldorf label that produced Hamburg artists in the 80s. How does founder Kurt Dahlke talk about Hamburg? Stories of memories with his friends Andreas Dorau and Holger Hiller included.
- Cony Plankton × Melissa E. Logan
A cross-generational conversation between singer-songwriter Cony Plankton and Melissa E. Logan of Chicks on Speed about the life of an artist.
- MOVIE REVIEW by Sven Fortmann
Sven Fortmann, editor-in-chief of Lodown Magazine, reviews three Hamburg films recommended by featured artists.
- MEMORIES OF HAMBURG
Column pages in which photographer Hanayo, Kotsuguy of Kikagaku Moyo and Max Bauer of Isolation Berlin write about their memories of Hamburg.
- only child club in HAMBURG
Tokyo-based only child zine only child club. We present a memory column by the club president, Sally, a winter playlist compiled by Hamburg musicians who are only children and a movie recommendation.
- HAMBURG CITY MAP
CITY MAP with recommendations of favourite spots in Hamburg by Hamburg-related artists. and more...
All of the text is written side by side in English and Japanese with the aim to distribute RISIKO outside of Germany. After the initial release in Berlin, Germany on 14th October 2022, we plan to distribute to our overseas audience.