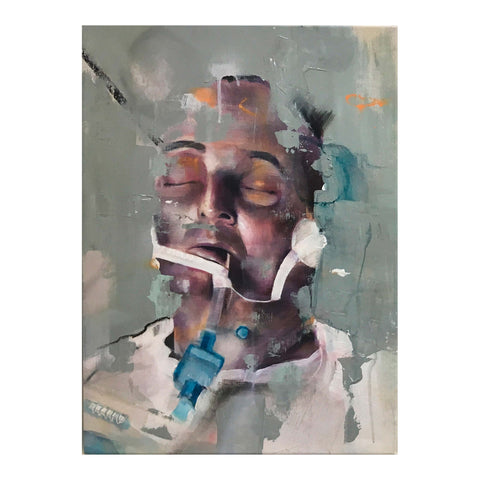 Timo von Eicken – Smoke I, 2017
€1,600.00
Painting, Acrylic on Canvas, 55 x 40 x 4 cm 
Timo von Eicken (*1977) was born in Hamburg and still lives in his city of origin which for him remains home and source of inspiration at the same time.
Because friends always called him Nono, von Eicken, who studied graphic design, started his career under the pseudonyms Mr. Nonski and Nonski. His early work was based on strong graphical forms before he more recently turned to figurative painting. Today, his paintings often reflect the different phases of his oevre making the images both unique and expressive.
Von Eicken produces large format collages of acrylic on canvas which tell intensive stories full of paradoxes: besides the graphical elements, it is mainly the attributes of the human beings which you would usually try to conceal that von Eicken focuses on.
If you are interested in purchasing this artwork or if you need further information and pictures, please contact us via shop@gudbergnerger.com or +49 040 8195150