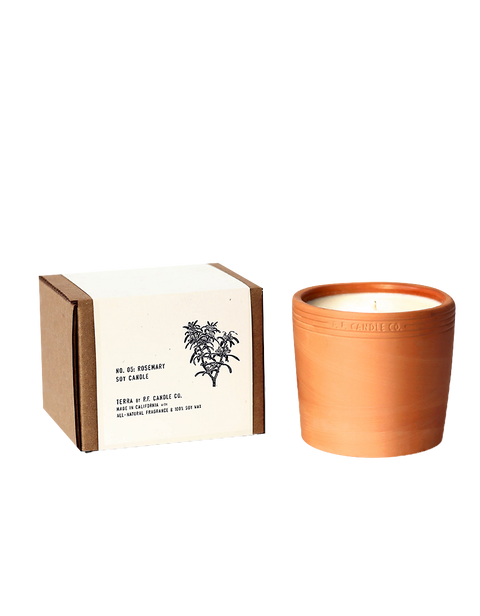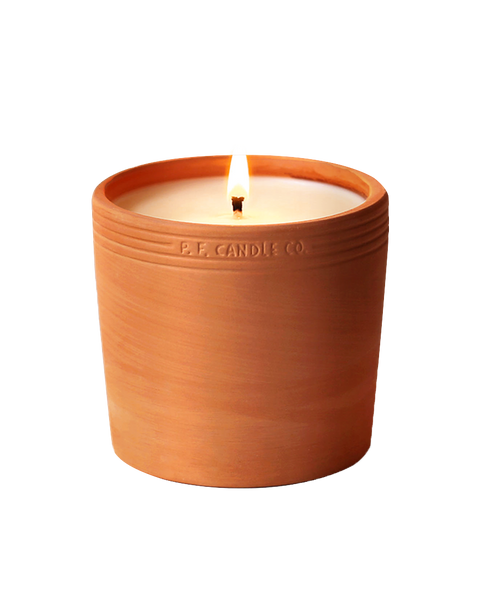 Rosemary Soy Candle
€50.00
Terra by P.F. Candle Co., No. 05 Rosemary 17.5 oz Soy Candle

Introducing the brand new Terra collection, a return to P.F.'s heritage of eco-friendliness and DIY spirit. The formula is simple: 100% natural ingredients, 5 botanical scents, and a 80-hour burn time - all in a re-useable terra cotta pot. Resinous, woody notes of Moroccan Rosemary and sage lead to a vibrant thyme infusion. Perfect for a table setting, peppery parsley weaves throughout. Warm and familiar, like sharing homemade bread with friends before dinner's ready. 
Scent profile: Moroccan Rosemary, sage, thyme, and parsley - herbaceous and woody
Qualities: stimulating, healing, improves memory
Inspired by: friends gathered on the patio, fresh baked focaccia
Hand poured into our neutral blush terracotta vessels. Each lightly glazed pot is suitable for a candle yet breathable enough to house a plant, which means they will age and take on a unique patina throughout the candle's life. A bit of wabi-sabi charm! 
Ingredients: 100% domestic soy wax, cotton wick, all-natural fragrance oils (100% derived from natural sources), and an infusion of essential oils
Burn Time: 75-85 hrs
Size: 17.5 oz, 4.25" x 3.5"



P.F. Candle Co. is a Los Angeles-based fragrance company owned and operated by wife-and-husband team Kristen Pumphrey and Thomas Neuberger. Their mission is to create high-quality fragrance, designed, produced and shipped out of Southern California.
The entire collection is vegan, cruelty-free, and phthalate-free — always.

All of the candles are made with 100% domestically-grown soy wax.