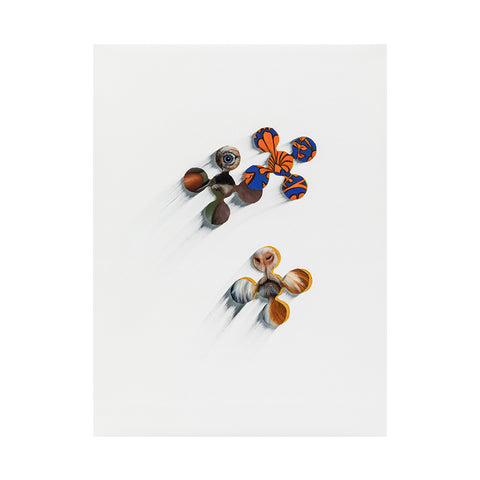 Svenja Maaß – Polymonos 06#2019
by Svenja Maaß
€1,300.00
"06#2019", from the series "Polymonos"
Oil on polyester, 40 x 30 cm
Originally from Bielefeld, Svenja Maaß (*1977) studied Fine Arts in Braunschweig and is currently living in Hamburg. In her pictures and collages, Svenja Maaß knits together different elements that figure into complex wholes. Her protagonists are often animals, and in earlier works human beings. Unlike humans, animals cannot be identified according to clothing, jewellery and other formalities; they don't obey such codes, and for Maaß they are more original, timeless figures. The precisely drawn, partly surreal motives form bits of stories with open endings. Svenja Maaß uses different backgrounds – canvases, metal, or transparent parchment – which allow the subject to almost float in the picture. The complex images go against the audience's expectation and are not easy to decipher spontaneously. Svenja Maaß describes her method as a process which forces both her and the viewer to rethink again and again. Only slowly, the different parts are allowed to form a whole.
If you are interested in purchasing this artwork or if you need further information and pictures, please contact us via shop@gudbergnerger.com or +49 40 8195150