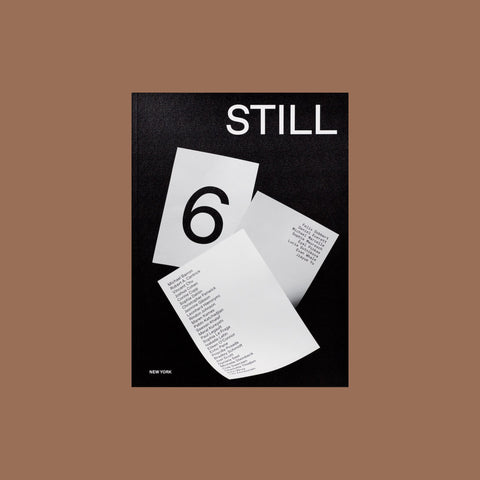 STILL Issue 6 – NEW YORK
by STILL
€15.00
STILL is an independent magazine featuring inventive writing and photography. The artists published by the magazine challenge creative conventions in form or content and include an eclectic range of creators working in fiction, nonfiction, poetry, essays, translations, and fine art photography. STILL is based in Berlin and New York.
This issue comes with in a Berlin (German/English) and New York (only English) Edition.
NEW YORK EDITON
This all-English issue features works and photography that grapple with a spinning diversity of topics like: an ode to Brokeback Mountain, the impossibility of contemporary flâneur-ing, electric kisses, finding love sans cell phones, adulting while depressed, the feeling of colors, mundanity and reproduction, and the art of digital flirtation.  
Publication date: June 15, 2018. Perfect-bound, 104 pp, 23x31 cm. Edition of 4400. English. ISSN 2196-4580. Photo by Michael Marcelle.
Writing: Janet Blanken, Timo Brandt, Charlotte Van den Broeck, Corina Copp, Sophia Dahlin, Viktor Dallmann, Caroline Danneil, Susanne Eules, Yannic Han Biao Federer, Tim Holland, Hendrik Jackson, Rindon Johnson, Marija Karaklajić, Nadine Kaufmann, Artur Krutsch, Niklas L. Niskate, Robert Charles Owen, Jörg Piringer, Len Sander, Joel Scott, Daniela Seel, Michelle Steinbeck, Charlotte Thießen, Jochen Veit, Sebastian Weirauch
Photography: Felix Dobbert, Daniel Everett, Michael Marcelle, Sophie Meuresch, Eyal Pinkas, Lucia Sotnikova, Evan Whale, Jiayue Yu