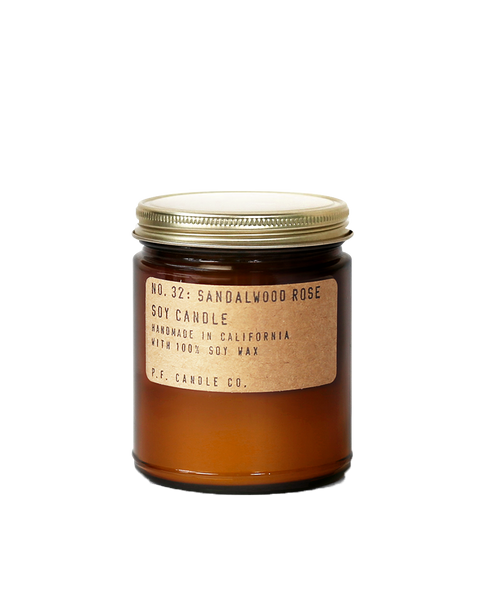 Sandalwood Rose Soy Candle
€26.50
P.F. Candle Co., No. 32 Sandalwood Rose Lt 7.2 oz Soy Candle
For years, P.F. has been developing the perfect rose scent - and it's finally here. Sandalwood Rose is their almost indescribable take on the sultry florals we love so much, with just enough edge to keep it unisex. The grit of New York nights meets the botanical calm of a Los Angeles afternoon. Soft rose, earthy sandalwood, and mysterious oud create a magnetic depth, making this scent your new favorite.
Sandalwood Rose exudes a cool confidence, centered in the balance between blooming florals and grounding earthy notes. Luscious cashmere rose leads the heart, enhancing the aromatic textures of rich sandalwood, musky labdanum, and resinous oud.

Top: violet leaf, marine
Heart: patchouli, iris, cashmere rose
Base: sandalwood, amber, oud, labandum, musk

Ingredients: 100% natural soy wax, phthalate-free premium fragrance oil, cotton wick
Burn Time: 40-50 hrs
Size: 7.2 oz, 2.75" x 3.75"

The 7.2 oz standard soy candles are hand poured into apothecary inspired amber jars in P.F.'s studio.


P.F. Candle Co. is a Los Angeles-based fragrance company owned and operated by wife-and-husband team Kristen Pumphrey and Thomas Neuberger. Their mission is to create high-quality fragrance, designed, produced and shipped out of Southern California.
The entire collection is vegan, cruelty-free, and phthalate-free — always.

All of the candles are made with 100% domestically-grown soy wax.