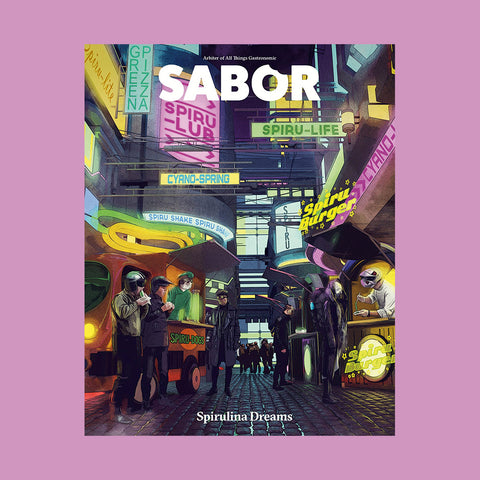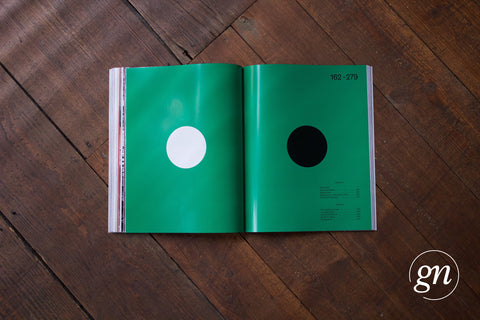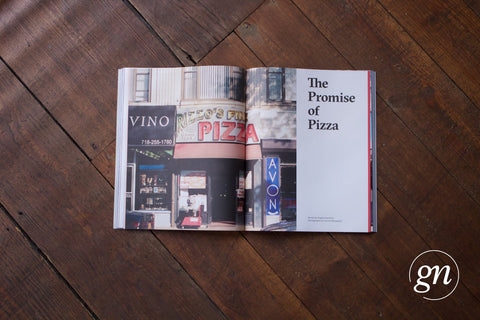 Sabor Journal Issue 2 – Spirulina Dreams
by Sabor
€9.00
€18.00
Sabor: an international journal, arbiter of all things gastronomic.

Sabor stimulates the appetite and the mind: in each issue, it transports readers around the world, combining in-depth articles on cutting-edge topics with first-hand accounts from the people at the forefront of food and drink. Integrated into these stories is Sabor's strong art direction, showcasing work from the best contemporary photographers and illustrators. Tracking the most exciting developments in global food and delving deep into food history and travel, Sabor is the journal for the curious and discerning epicurean.
Spirulina Dreams
For our first issue, Sabor Journal took you inside the culinary revolution reshaping Paris, the world's first great restaurant city. In our second, Spirulina Dreams, we're taking you to a place more beautiful, more intimidating, and altogether weirder: the Future.
We've gone in search of an elusive blue algae drink at "the world's largest food innovation exhibition" in Paris and dug deep on the impact of climate change on classic wine regions. We take you to a culinary school changing the way young people eat at the edge of Bolivia's altiplano and inside a Dutch lab that's exploring the nearly infinite possibilities of microalgae. We asked some of the brightest minds in the food world for a glimpse into their imagined food futures, and sat down for a talk with none other than Dan Barber, who wants you to save the world with better bread (we're paraphrasing).
We've also got stories on how food shapes our past: pieces on memory and nostalgia, love and sex, bees and 'shrooms, grandmas and mangoes, traditions and how we lose them. We sample barbacoa in rural Oaxaca; Hatcho miso in Nagoya, Japan; and every kind of fish sauce imaginable in Vietnam. We catch up with an urban beekeeper, explore the linguistic misunderstandings at the root of American Chinese food with Guggenheim Fellow Ann Mendelson, and let it rip on the singular horrors of Canapés.
We also get a literal look at both past and future with artwork from a host of award-winning photographers and illustrators. Original drawings from Kenichiro Mizuno and Chris Skinner offer wildly different takes on the surreal future of food. Classic New York pizza signs get a retro glow through the lens of Yusuke Miyagawa. And Award-winning photographer Florian van Roekel shoots the office lunch of your dreams (we provide the recipes).