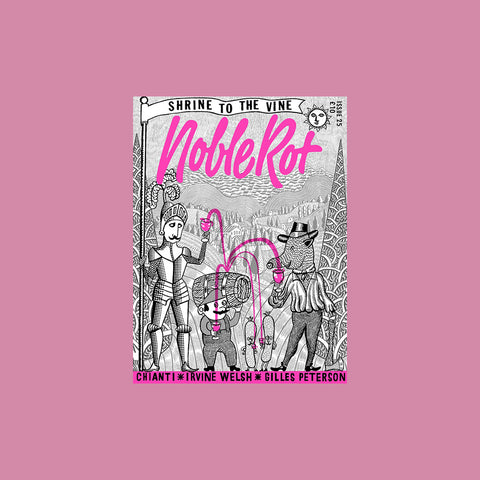 Noble Rot Issue 25
by Noble Rot
€12.00
Noble Rot magazine attempts to join the dots between wine, music and food. We want to tell stories and inspire people to enjoy what they drink, eat and listen to. 'We' is Mark Andrew and Dan Keeling and we started Noble Rot with the intention of giving young and/or alternative writers a platform to discuss contemporary culture from a fresh perspective. 
Introducing Noble Rot 25, another cordial collection of writing about wine and food, fact and fiction, the quite serious and the not very serious at all. In this issue we…

…escape to Tuscany between lockdowns to meet an exciting young generation of Chianti Not Chianti producers, including Montevertine and Tenuta di Carleone.

…welcome Edinburgh's master of dark comedy, and author of heroin-spiked classic Trainspotting, Irvine Welsh. He tells us how Covid restaurant closures have forced him to improve his culinary skills, and given him a new perspective on less-recreational uses for kitchen foil.

…interview DJ Gilles Peterson and Brawn chef Ed Wilson about the joy of Romanée Conti, and their recent sensory collaborations.

…hear about Margot Henderson's 'Greatest Ever Meal' at Paris' Le Baratin.

…feature queen of the interviewers and author of film sensation An Education, Lynn Barber, writing on discovering posh food and restaurants.

…ask a few of our sagest wino chums what they would buy to start a cellar for less than £500?

Elsewhere in this issue we profile Santorini and Tuscany's sweet Vinsanto/ Vin Santo wines; remember Lulu Peyraud of Bandol's Domaine Tempier; La Fromagerie's Patricia Michelson gives us her ultimate cheesecake recipe; and William Kelley looks at the future of Burgundy in a time of climate change. Plus other stories and musings from Simon Hopkinson, Marina O'Loughlin, John Niven, Stephen Harris, Alice Feiring, Kate Spicer, Jordan Michelman, Rachel Roddy, Russell Norman and George Reynolds.
Noble Rot magazine is the home of exciting wine and food writing. Since 2013 Noble Rot has seen chefs Pierre Koffmann, Fergus Henderson and Yotam Ottolenghi rubbing shoulders with Kiera Knightley, Brian Eno, Caitlin Moran, Mark Ronson and LCD Soundsystem, blurring the boundaries between gastronomy and the creative arts.