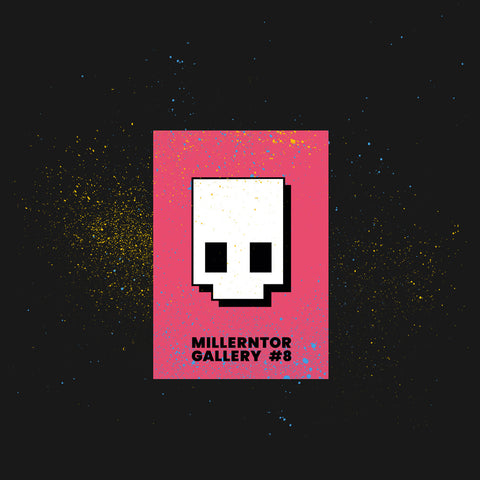 Millerntor Gallery #8 IdentiKEY
by Viva con Agua de Sankt Pauli e.V.
€10.00
The next big opus about the eighth Millerntor Gallery – initiated by Viva con Agua, Sankt Pauli e.V. and the Sankt Pauli Football Club and published by GUDBERG NERGER. The entire content of the international art, music and culture festival is summarised on nearly 500 colourful pages. As in previous years, the joint venture stays true to its motto "Art Creates Water", since this project transforms art into clean water. At the same time, we hope to inspire both visitors and readers by means of the universal languages of art, music, and sports to become socially more involved.
Browse through the book on issuu.
 
21 x 14,8 cm
Hardcover, 480 pages
German/English
Der nächste große Brecher über die mittlerweile achte Millerntor Gallery. Alle Inhalte des internationalen Kunst-, Musik- und Kulturfestivals zusammengefasst auf knapp 500 bunten Seiten – initiiert von Viva con Agua de Sankt Pauli e.V. und dem FC Sankt Pauli, publiziert von GUDBERG NERGER. Unser gemeinsames Motto dabei lautet wie in jedem Jahr: "Art Creates Water", denn wir transformieren Kunst in sauberes Wasser. Gleichzeitig inspirieren wir die Besucher und Leser mittels der universellen Sprachen Kunst, Musik und Sport zu gesellschaftlichem Engagement.