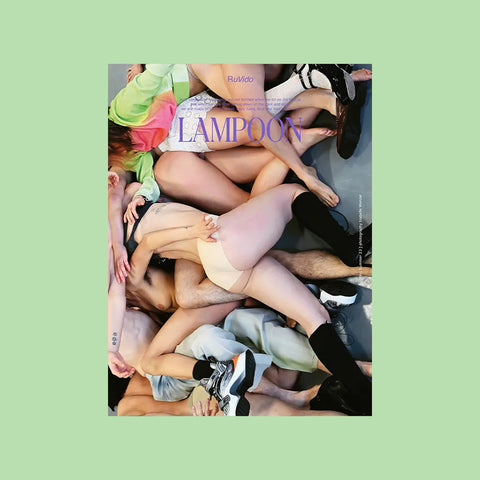 Lampoon Magazine No. 27 – The RuVido Issue
by Lampoon
€24.00
Lampoon looks for imperfections, impurities, paradoxes, distortions, human realities. From this word 'rough' – RUVIDO – comes our cultural narrative and visual context. Lampoon want to respect, be committed, and support anyone who wants to speak about human diversity. This is the editorial identity of Lampoon.
Lampoon – rough, not irriverent
Lampoon means 'irreverent pamphlet'. The word 'irreverent' carries a sense of provocation, a demand for attention, and is too over explanatory of a caption, which is not in keeping with my work or my attitude. We choose titles and words that can change a question, never an answer. Rather than defining Lampoon as 'irreverent', we prefer to refer to Lampoon as a 'rough pamphlet'. At Lampoon, we look for all that is 'rough' — starting with natural fibers and discarding synthetic ones, we look for imperfections, for impurities, such as details of toil and reality, for materials that can breathe, never plastic. From here, from this word 'rough', comes a cultural narrative and a visual context.
Featured in Lampoon 27
Vanessa Beecroft, Gary Card, Marie-Laure Cérède, Alex Huanfa Cheng, Benoît Debie, Floriana Hetz, Thomas Hirschhorn, Daniel King, Tom Kneller, Jacqueline Landvik, Olivia Malone, Tess McMillan, Tereza Mundilova, Hari Nef, Gaspar Noé, Pierre Rainero, Spyros Rennt, Paul Mpagi Sepuya, Richie Talboy, Winter Vanderbrink, Isabelle Wenzel.
Italy's aesthetic playground worldwide: fashion, photography, graphics, architecture – Lampoon is an intellectual collision. We use Italian culture as a strong reference. We want to remain consistent on this: Lampoon is a magazine that brings a hyper-contemporary Italian taste to the world.