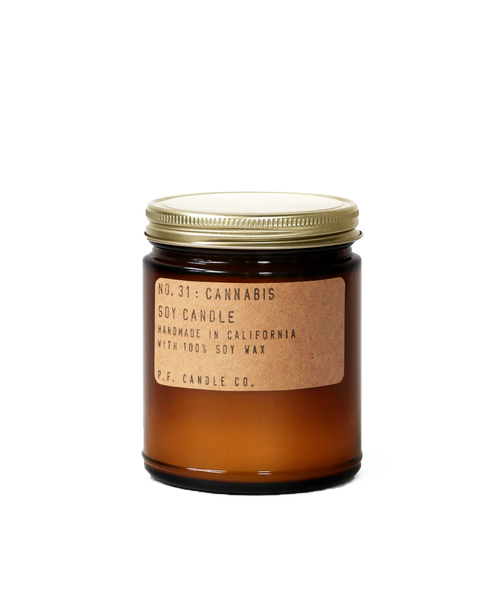 Cannabis Soy Candle
€26.50
P.F. Candle Co., No. 31 Cannabis 7.2 oz Soy Candle
This heady fragrance celebrates California's 2018 legalisation of everyone's favourite herb. Sultry base notes of sweet balsamic, leather, and vetiver harmonize with fragrant patchouli, piquant rhubarb, and uplifting lemon to create a uniquely elevating experience that soothes the mind. The fragrance doesn't contain the real deal, but the blend of notes still takes you into the zone.
Top: spiced cloves, lemon, cannabis flower
Heart: rhubarb, patchouli
Base: sweet balsamic, leather, vetiver

Ingredients: 100% natural soy wax, phthalate-free premium fragrance oil, cotton wick
Burn Time: 40-50 hrs
Size: 7.2 oz, 2.75" x 3.75"

The 7.2 oz standard soy candles are hand poured into apothecary inspired amber jars in P.F.'s studio.


P.F. Candle Co. is a Los Angeles-based fragrance company owned and operated by wife-and-husband team Kristen Pumphrey and Thomas Neuberger. Their mission is to create high-quality fragrance, designed, produced and shipped out of Southern California.
The entire collection is vegan, cruelty-free, and phthalate-free — always.

All of the candles are made with 100% domestically-grown soy wax.