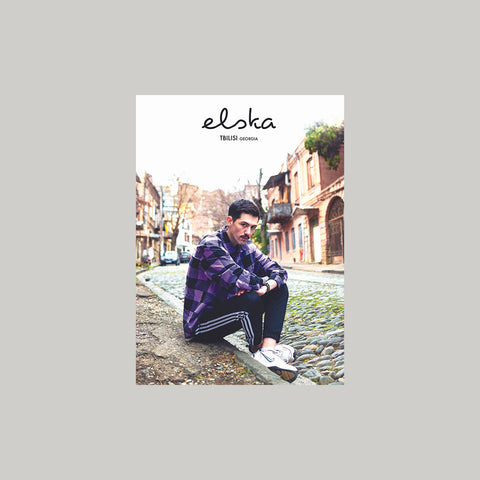 Elska #44 Tbilisi
by Elska
€18.00
Elska is a bi-monthly photography and culture publication dedicated to sharing the bodies and voices of gay communities all over the world. Each issue is made in a different city where readers get to know to several local gay guys through honest photography and personal storytelling. One article described Elska as "part intellectual queer pin-up mag and part sexy anthropology journal", and another as "probably the nicest, most sincere magazine ever". We quite like that!
About Elska Tbilisi (Georgia):
This issue, our 44th adventure, was made in Tbilisi, Georgia, one of the most gorgeous cities in the world. There's really very little negative we can say about this place, it's such a glorious and captivating specimen of urbanity. However, attitudes towards LGBTQ people in Georgian society are less than ideal, and of course that's what we came to focus on - Elska is after all not a travel mag but a mag about queer lives.
In this issue we met a cross-section of ordinary local men from the city's LGBTQ community, who we present to you through intimate photography and personal storytelling. The men you'll find here are representative of Tbilisi at a very particular moment in history… Russia's war against Ukraine led to the arrival of over 100,000 Russians trying to escape conscription or other effects of the war, a number that brought about noticeable changes to the city's fabric, both on the surface and emotionally - after all, Russia is a country that Georgia suffered its own war against in 2008 and which today occupies 20% of its territory. The effects of this situation is visible in this issue through what our Russian escapee and native Georgian participants chose to reveal, both in their physical expression and in their stories.
Elska is not intentionally a political publication, but this issue is par hasard our most political (though 'Elska Belfast' might argue it holds the title). This is simply a reflection of the times and the mood. Nevertheless although some content here tends towards the heavier side, the weight of beauty throughout remains heavier still. And for those readers who are strangers to the Caucasian world, you can as always enjoy this issue for its beautiful men and intimacy.
'Elska Tbilisi' features eleven chapters, dedicated to the following local participants: Iakob M, Demetre J, Nika P, Omo T, Lili N, David A, Nikita N, Miko S, Iason S, Nika J, and Dmitrii G.