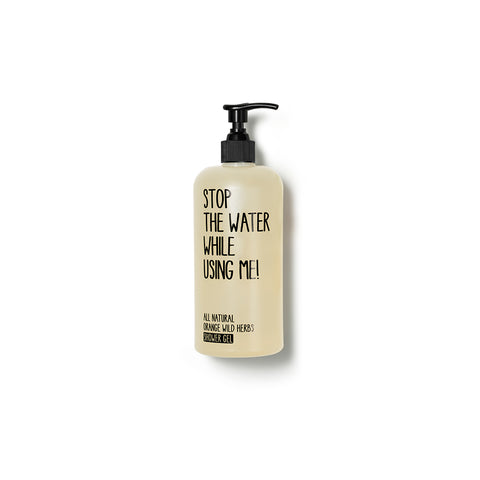 All Natural Orange Wild Herbs Shower Gel
by Stop the water while using me
€12.90
Revitalises body and soul.
Naturally stimulates the skin.
Gently minimises any tightness.
Made from organic orange flower.
With its high-quality fragrant oil and organic orange blossom water the gel noticeably revitalises body and soul. Lemon balm stimulates the natural function of the skin. Applied evenly, the shower gel has a deep cleansing action and gives the body a natural feeling of freshness and gentle care. The combination of mild washing substances and nourishing lipid replenishers gently cleanses the skin without drying it out. This gel ensures that every day begins with renewed strength and energy.
Ingredients
Orange blossom hydrosol: leaves the skin feeling silky smooth. It is particularly suited to sensitive, mature, tired and dry skin and is both moisturising and soothing. The fragrance of oranges also revives the senses.

Melissa hydrosol: soothes and tones the skin, feeling particularly pleasant on stressed skin. It has a fresh fragrance, alleviates irritation and is both anti-inflammatory and antiviral.