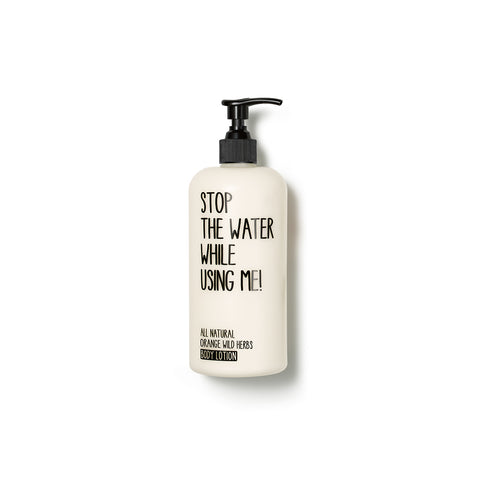 All Natural Orange Wild Herbs Body Lotion
by Stop the water while using me
€17.90
Revitalises body and soul.
Leaves the skin beautifully soft.
Provides long-lasting moisture.
Zesty orange fragrance revives the senses.
A vegan body lotion that has a summery fragrance and leaves your skin feeling silky smooth. Revive your body and soul after a shower and stimulate your senses with the scent of light, natural orange blossom water, lemon balm water and wild herbs. The perfect partner for our All Natural Orange Wild Herbs Shower Gel, this body lotion gives your skin the exact hydration it needs after every shower.
Ingredients
Orange blossom hydrosol: leaves the skin feeling silky smooth. It is particularly suited to sensitive, mature, tired and dry skin and is both moisturising and soothing. The fragrance of oranges also revives the senses.
Melissa hydrosol: soothes and tones the skin, feeling particularly pleasant on stressed skin. It has a fresh fragrance, alleviates irritation and is both anti-inflammatory and antiviral.