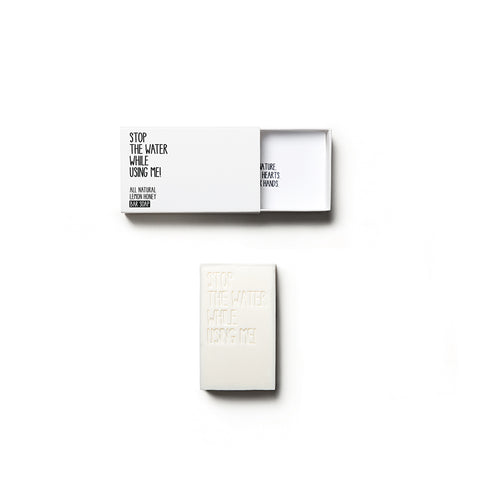 All Natural Lemon Honey Bar Soap
by Stop the water while using me
€16.90
Vitalising soap with fresh scent.
For normal to demanding skin.
From organic oils and honey.
Every purchase supports the "Stop the water while using me" water project in Kenya.
Nourishing organic plant oils gently cleanse and moisturise in this delicate soap, suitable for normal to demanding skin. A revitalising soap with a fresh scent and organic honey for greater enjoyment of everyday activities such as washing one's hands. Our handmade porcelain soap dish is the perfect accessory and provides a daily reminder to protect our valuable resource.

Content: 125g 

10% of every sold bar soap are directly invested in the new Good Water Project 'DROP FOR CHANGE'. More information here.
Ingredients
100% recyclable & natural. The products are not tested on animals and produced without synthetic dyes or fragrances. The products are exclusively perfumed using natural, essential oils and essences. The natural skin care range does not contain any silicones, paraffins or other mineral-oil-based raw materials.