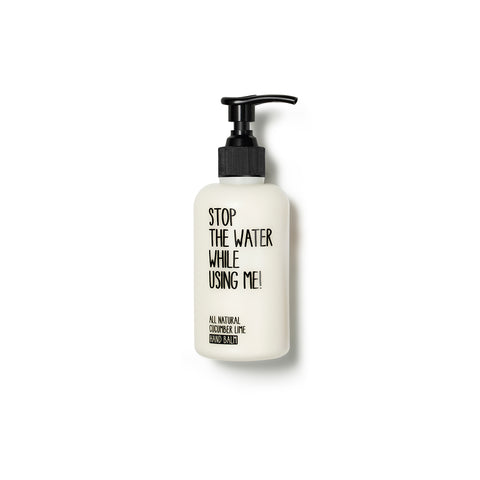 All Natural Cucumber Lime Hand Balm
by Stop the water while using me
€15.90
Provides lasting moisture.
Made with organic acacia honey.
Helps to prevent dry skin.
Zesty lemon fragrance revives the senses.
The perfect partner for our Lemon Honey Soap, this indulgent hand balm nourishes and strengthens the skin and has a long-lasting moisturising effect. The high-quality formulation contains organic acacia honey, shea butter and rich olive oil to protect the skin and leave your hands feeling soft and silky smooth. Selected lemons lend the balm a fruity fragrance that revitalises the senses and provides a burst of zesty freshness. An invigorating, aromatic hand balm for everyday use.
Ingredients
Organic acacia honey: Honey is particularly good for mature, demanding skin, which it leaves feeling wonderfully soft. It contains fermenting agents, enzymes and amino acids and smoothes, moisturises and rejuvenates normal to dry skin.

Organic olive oil: For centuries, olive oil has traditionally been used in popular medicine as a base oil for healing ointments. Practitioners of folk medicine have long considered this oil to have a warming, anti-inflammatory and circulation-boosting effect. It is particularly attractive thanks to its high oleic acid content, which provides long-lasting moisture while also helping to protect and regenerate the skin.
100% recyclable, vegan & natural. The products are not tested on animals and produced without synthetic dyes or fragrances. The products are exclusively perfumed using natural, essential oils and essences. The natural skin care range does not contain any silicones, paraffins or other mineral-oil-based raw materials.