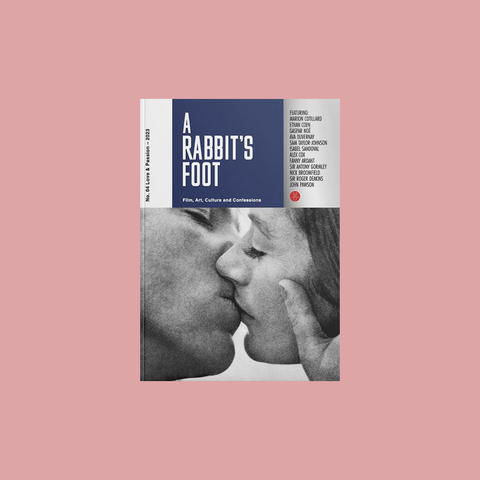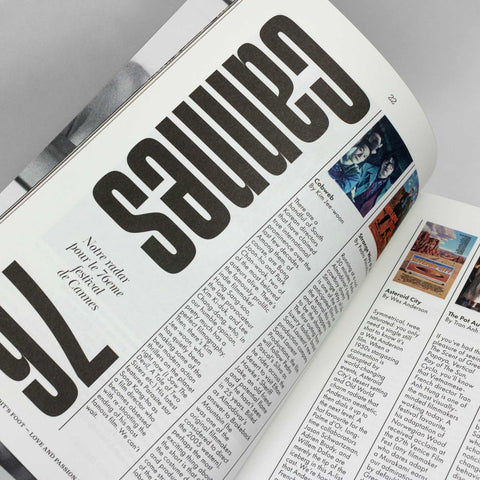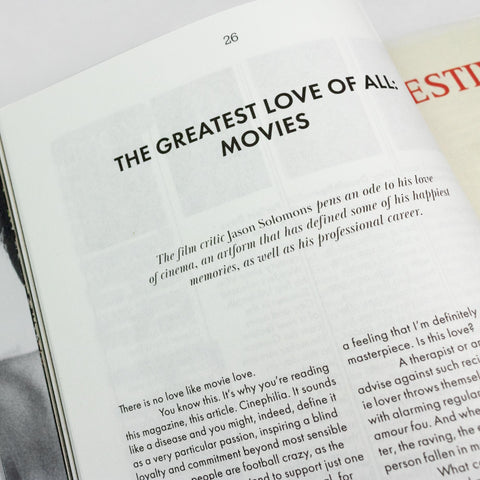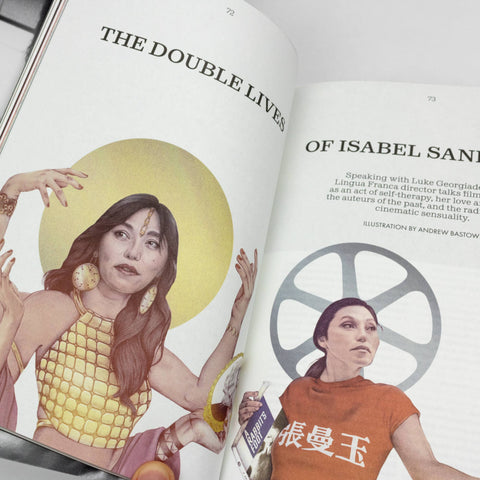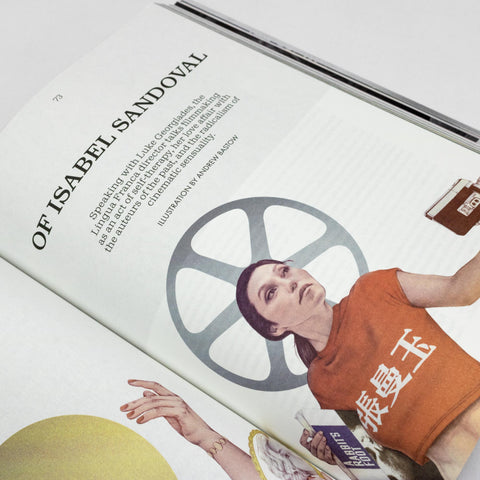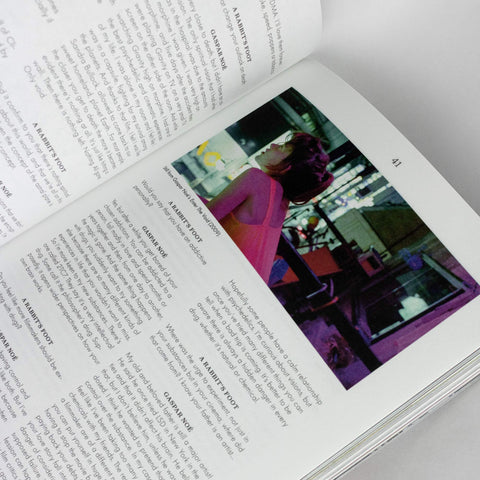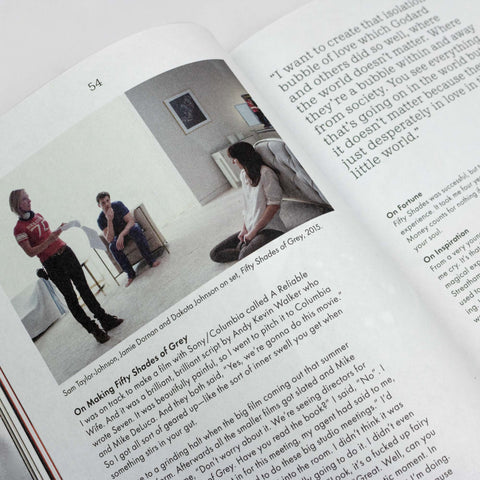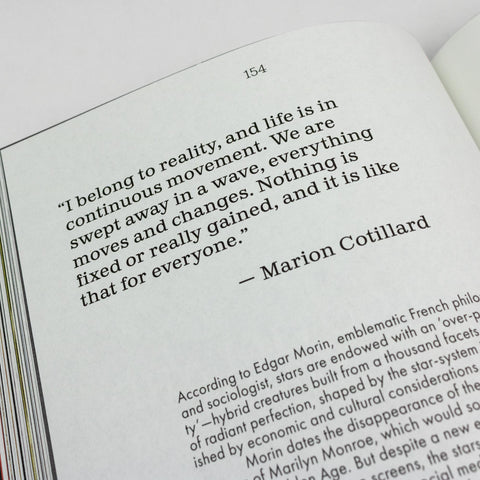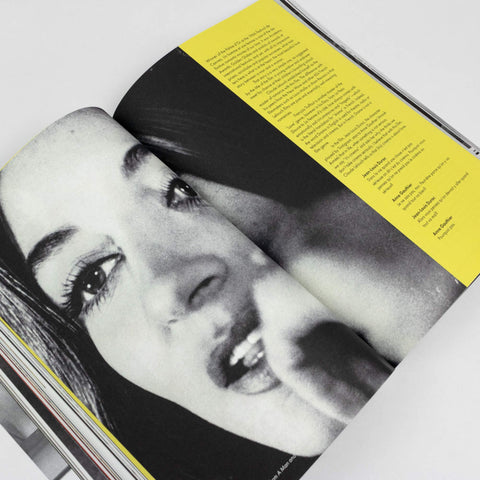 A Rabbit's Foot Issue 4 - Passion & Love
€25.00
A Rabbit's Foot is a British-based quarterly printed film and art bookazine, founded and edited by the film producer and businessman Charles Finch. Finch hosts the Oscars, Cannes, and BAFTA dinners and has long-standing connections to the film industry.

Established as an "insider's look at the industry, from a current, historical and international perspective" with a premium, handmade feel, A Rabbit's Foot aims to be a cerebral companion for those curious about arts and films, with a consumer-facing focus. Each quarterly edition is themed around a cultural motif (such as French cinema or Politics and Film) and contains interviews, essays and biographical writing around that chosen topic, alongside photography, behind the scene-images and film stills.
Smooch! This fourth issue (pleasingly chunky following the recent change in format) is themed 'Love & Passion', features the likes of Marion Cottilard, Gasper Noé, Sir Roger Deakins, Fanny Ardant and more, opening with a quote from Jean-Luc Godard that proclaims: 'You can't kiss a movie.' (Try telling that to the cover). 

And the name? It comes from an Ernest Hemingway book, 'For luck you carried… a rabbit's foot in your right pocket… the claws scratched in the lining of your pocket and you knew your luck was still there.'
The issue features exclusive interviews and profiles from the following artists: 
Gaspar Noé in conversation with Chris Cotonou — cult arthouse filmmaker and provocateur, this exclusive interview held at the peak of the 2030 Parisian riots discusses Noé's varied film career, his near-death experience after his "party animal" lifestyle and "the real mystery about life before death." 
Kim Krizan in her own words — the writer for the Oscar-nominated Before Sunrise writes a personal essay on the "fragile and powerful" experience that led to her movie's creative genesis.
Marion Cotillard profiled by Richard Gionorio — we profile the famed French actresses (best known as Inception's iconicfemme fatale) on her multifaceted life, her star power and her role as one of the last great French muses.
Sir Rogers Deakins in conversation with Chris Cotonou — the iconic cinematographer discusses the romantic photographic odyssey of trying to "capture perfection".
Isabel Sandoval profiled by Luke Georgiades — trans director of Lingua Franca opens up about her filmmaking experience and her view that she could've become "a nun living a double-life" were it not for movies. 
Sam Taylor-Johnson in conversation with Charles Finch — award-winning filmmaker and photographer candidly explores the torturous experience making 50 Shades of Grey. 
Alex Cox — in a rare public interview, we sit down with the reclusive punk filmmaker and critical darling to discuss his life, his love story Sid and Nancy and Fear and Loathing in Las Vegas. 
Anthony Gormley in conversation with Chris Cotonou — the world-renowned artist behind the Angel in the North discusses sculpture, spirituality and his upcoming, previously unannounced, utopian project. 
Nick Broomfield in conversation with Charles Finch — the BAFTA winning documentarian opens up about the value of documentaries to preserve truth, his many loves, and his time with serial killer Aileen Wuornos. 
Ava Duvernay — BAFTA and Emmy Award winning director talks agape, selflessness and Selma. 
Sitting between these features, are long-form articles from A RABBIT'S FOOT in-house writers on love and passion across world cinema and the arts, essays by acclaimed journalists Peter Bradshaw, Jason Solomons, and Natasha Fraser, alongside exclusive photography from Jacques Henri-Lartigueand Bressaï.