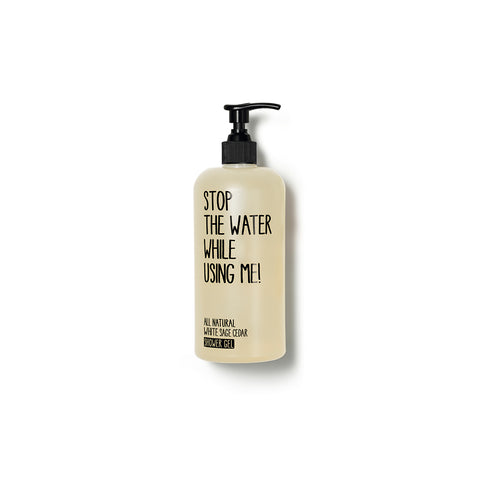 All Natural White Sage Cedar Shower Gel
by Stop the water while using me
€12.90
Refreshes and revitalizes.
Gently cleans the skin.
Fresh kick for the shower.
Replenishes and moisturizes.
The refreshing fragrance of white sage revitalizes the body and mind and returns the natural moisture to the skin, leaving it fresh and soft to the touch. Mild cleansers and moisturizing ingredients gently clean the skin without drying it out. The velvety touch of cedar activates the senses and adds a fresh kick to your daily shower.
Ingredients:
White Sage: Has been used extensively by indigenous people in healing and health ceremonies. The refreshing aroma captivates the senses and revives the body and spirit due to its aromatic, resinous and warm herb scent.

Natural Glycerin: Minimizes the feeling of tension, which often occurs after showering when the skin is particularly dry. Additionally, it moisturizes the skin and helps protect the skin barrier, a part of the natural moisturizing factor of skin. Natural glycerin is also known for its nourishing effect in natural cosmetics.
100% recyclable, vegan & natural. The products are not tested on animals and produced without synthetic dyes or fragrances. The products are exclusively perfumed using natural, essential oils and essences. The natural skin care range does not contain any silicones, paraffins or other mineral-oil-based raw materials.